Spinoffs are nothing new in the world of publicly traded companies, but with the way things have gone in 2023 and anticipated for the remainder of the year, it could be a banner year for them in healthcare industries.
The advantages of a spinofffor a parent company are that it allows the separated entity to further grow or do better as an independent company, and permits the parent company to focus on its core business.
So far in 2023, there have been three spinoffs in the healthcare space, the largest being Johnson & Johnson's (JNJ) spinout of its consumer healthcare division into Kenvue (NYSE:KVUE), which began trading on May 4. That came through a $3.8B IPO.
Other key healthcare spinoffs so far in 2023 are GE HealthCare Technologies (NASDAQ:GEHC) from General Electric (GE) in early January. Medtronic (MDT) also created Mozarc Medical for renal care as part of a joint venture with DaVita (DVA) in April.
Another transaction of note includes PerkinElmer divesting its applied, food and enterprise services businesses to New Mountain Capital and renaming the former company Revvity (RVTY) in March. The divested unit has kept the PerkinElmer name.
The remainder of 2023 and into early 2024 looks to become even hotter for healthcare spinoffs, according to a recent article from Evaluate Vantage. The insight and analysis firm found that between now and H1 2024, six IPO spinouts are set to take place plus a sale of a business unit to a private equity firm.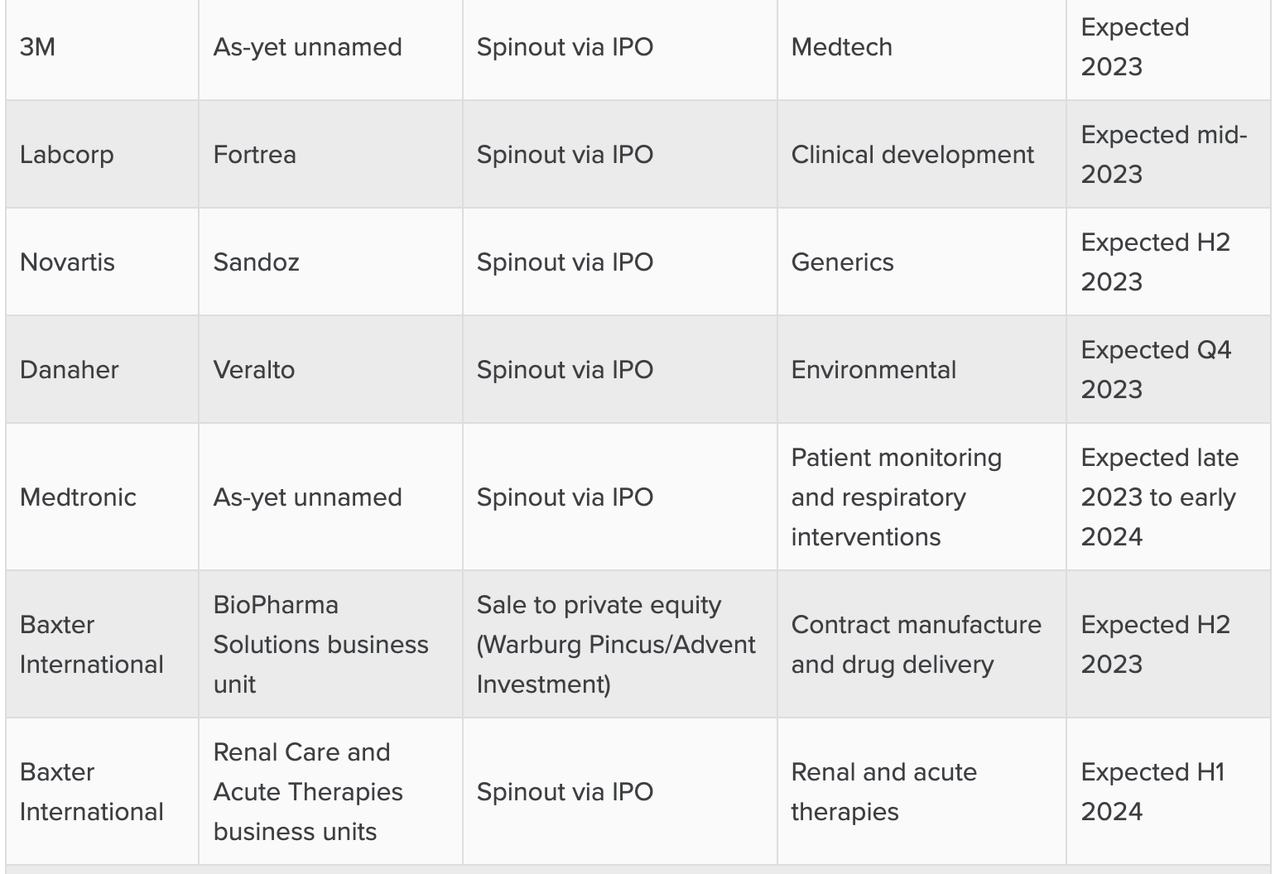 Evaluate Vantage, Healthcare divestmania in 2023 and beyond
Perhaps the most anticipated spinoff in the second half of the year is Novartis (NYSE:NVS) letting go of its large generics division, Sandoz. Sandoz net sales in Q1 2023 were $2.4B, a 4% increase compared to the prior-year period.
Baxter International (NYSE:BAX) is set to sell its biopharma solutions business to a private equity partnership in the second half of the year. This unit is involved in contract manufacture and drug delivery.
And in H1 2024, the company anticipates spinning off its renal care and acute therapy units through an IPO.
Other companies with planned spinoffs later this year are Medtronic (MDT) with its patient monitoring and respiratory monitoring systems, and Laboratory Corporation of America (LH) parting with clinical development business Fortrea via IPO.
More on healthcare spinoffs
Labcorp to spinoff clinical development business into new publicly listed company
Novartis appoints 10-member board for Sandoz unit ahead of spinoff
Baxter to spinoff renal care business in restructuring plan
Medtronic wins positive views as spinoff narrows focus