Over the previous 25 years, researchers have realized lots about our microbial companions and generated a mountain of information due to advances in sequencing expertise. However researchers nonetheless lack efficient strategies to change the microbiome based mostly off of this data. Introducing new microbes by way of dietary supplements or fecal transplants has proven little success as a result of new bacterial residents have a tough time grabbing a foothold in a crowded, established group. Killing pathogens with antibiotics additionally takes benign micro organism as collateral harm, and might result in drug resistance in survivors.
Researchers goal E. coli within the mouse intestine with a CRISPR system 
that induces DNA breaks at a selected genomic sequence.
"There is a lack of precision when it comes to how we're in a position to manipulate the microbiome," stated Peter Turnbaugh, affiliate professor on the College of California, San Francisco, whose analysis crew just lately developed a microbiome-altering system utilizing CRISPR-Cas9 enhancing expertise. "That actually motivated this kind of seek for a software that we may use to make extra particular modifications."
In vitro, scientists take away genes or kill cells by inducing double-strand DNA breaks at focused sequences with CRISPR's Cas nuclease.  As described in a latest Cell Studies examine¸1 Turnbaugh's crew developed a exact solution to modify the microbiome in vivo with CRISPR, one bacterial pressure or gene at a time.
"The method is unquestionably very attention-grabbing, and…the sphere is attempting to go to in the direction of particular, surgical modifications of the microbiome," stated Michael Zimmermann, a bunch chief on the European Molecular Biology Laboratory, who was not concerned on this examine. "It is fairly clear that the microbiome has this hyperlink to well being and illness and we have to modulate it."
Particular Supply
The trick to utilizing CRISPR to alter the microbiome of an organism was to discover a solution to ship it to the micro organism of curiosity—on this case, the mouse intestine microbiota. To perform this, Turnbaugh turned to bacteriophages, which have a particular relationship with the micro organism they infect; most phages solely infect one bacterial species or pressure. Whereas some kill a cell upon an infection, filamentous phages, resembling E. coli's M13 used on this examine, take a gentler method and could be co-opted to ship genetic cargo into their host. The researchers determined to package deal the phages with plasmids containing the CRISPR system engineered to focus on a selected DNA sequence.
To visualise CRISPR at work, the scientists designed the system to disrupt a bacterial gene locus encoding inexperienced fluorescent protein (GFP). Previous to phage remedy, the scientists colonized mice with a GFP E. coli pressure and a red-fluorescent (mCherry) pressure as a management. In later experiments, the researchers used a single bacterial pressure that contained each fluorescence genes. Subsequent, they orally administered the phages to the mice, sending them to work together with E. coli within the intestine. Turnbaugh's crew anticipated the CRISPR system to chop the bacterial genome on the GFP locus, which might kill most cells unable to restore the harm.
To find out their experiment's success, the researchers remoted micro organism from mouse stool samples and analyzed fluorescence. Total, the CRISPR-carrying bacteriophage killed many of the GFP-containing micro organism within the mouse intestine. Within the surviving micro organism collected from the stool, the researchers noticed many pink fluorescent cells and few inexperienced and non-fluorescent E. coli. 
Complete-genome sequencing indicated that the surviving phage-infected micro organism that misplaced their inexperienced glow had massive deletions within the GFP gene, which got here from imprecise restore of Cas9-induced double-strand DNA breaks. This confirmed that for probably the most half, the phages discovered their marks and delivered the CRISPR cargo, which focused and cleaved the meant sequence.
Enhancing for the Future
Turnbaugh sees this work as a software for researchers to make use of within the laboratory. By exactly enhancing bacterial genomes in vivo, they'll perceive essential mechanisms driving well being and illness related to the microbiome and pathogenic microbes.
Turnbaugh's crew is at the moment resolving the system's limitations. Notably, the mouse mannequin doesn't mimic the human intestine—the researchers handled the mice with antibiotics for a number of causes, together with to wipe out the intestine microbiome to make room for the fluorescent E. coli.  Moreover, in response to Zimmermann, one other limitation is that the one micro organism examined have been E. coli—a priority that Turnbaugh hopes to handle sooner or later.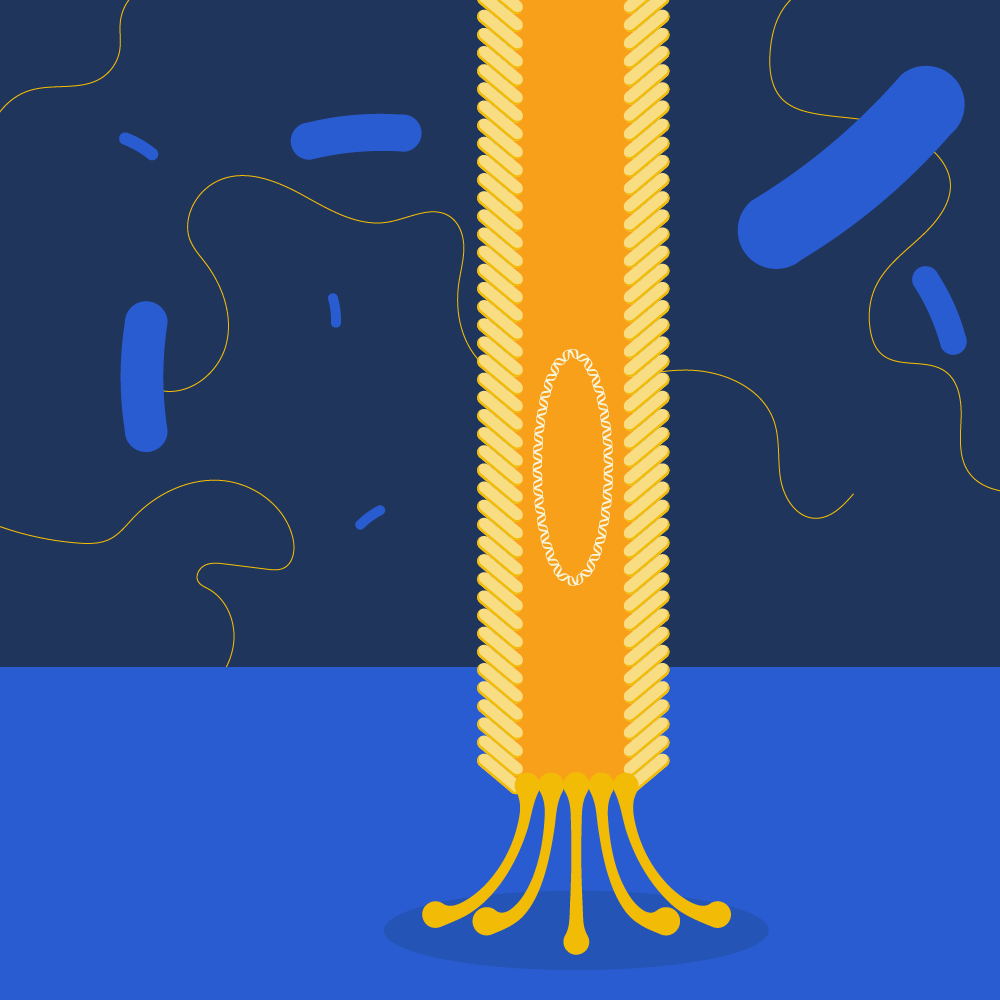 The filamentous bacteriophage M13 (yellow) injects a plasmid carrying
 sequences for the CRISPR equipment into E. coli (blue).
"We've tons of information from around the globe wanting on the variety of bacteriophage within the intestine, however what we do not have are actually well-characterized pairs of micro organism and viruses, like M13 and E. coli," stated Turnbaugh. "One of many main issues transferring ahead is figuring out different pairs. We might wish to have extra phage that will goal different members of the group, ideally in a means that is not likely pressure particular."
Moreover, the system isn't foolproof as a result of the researchers noticed micro organism in stool that averted CRISPR assault. "Micro organism are the unique, unimaginable escape artists. There are methods that they've of evading no matter you are attempting to do," stated Kathy Lam, the paper's first creator. "You make a double-stranded minimize. It isn't bizarre that they'll restore that in ways in which permit them to outlive, or to mutate the CRISPR-Cas system."
Proof of micro organism repairing their DNA led the researchers to see this method much less as an antimicrobial designed to kill micro organism, however as a solution to perceive and modulate pathogens or the microbiota by disrupting focused genes. "You probably have organisms which might be in your intestine, and so they're breaking down molecules, it is essential to know these actions. And in the event that they're undesirable, you might doubtlessly take away this particular gene that's performing that exercise," Lam stated.
Past eradicating undesirable micro organism or genes, this phage supply system may ship fascinating genes to microbiota residents, which opens many potentialities. "The choice technique that we're excited about is…gaining operate," stated Turnbaugh. "Ideally, we wish to add features to E. coli which might be each helpful to the micro organism and related to illness…We wish to attempt to work with E. coli to make a more healthy intestine."
References
Okay.N. Lam et al., "Phage-delivered CRISPR-Cas9 for strain-specific depletion and genomic deletions within the intestine microbiome," Cell Rep, 37, 2021.