During the month of February, Kizzmekia Corbett, P.h.D. and José Andrés were invited to speak as part of the 18th season of the Guilford College Bryan Series. The annual talk series, hosted and presented by the College since 1996, invites high-profile guests to discuss issues that matter. Other notable speakers during the 2022-23 season included Venus Williams, Daniel Levitin, Ph.D. and Rosanne Cash.  Our coverage of the talk with Levitin and  Cash can be found here. The series will close on April 4 with a talk by Ronan Farrow, a Pulitzer Prize-winning investigative reporter.
Corbett, who presented on Feb. 6 at the Tanger Center in Greensboro, is a viral immunologist known for her work on one of the COVID-19 vaccines and for her coronavirus research at the National Institutes of Health. She began her talk by remarking on how it was nice to be "home," as she grew up in Hillsborough, North Carolina. She told a story about how an injury she suffered while playing with her cousins, which left her with a forehead scar, taught her about how communities care for each other.
She applied this lesson later in life as she began a career in virology, stemming from a childhood fascination with, and aptitude for, science. Her work with coronaviruses actually preceded the pandemic, leaving her team at the National Institute of Health well-positioned to create an mRNA vaccine for the virus at a record pace.
Corbett ended the session by taking audience questions. One audience member asked how to convince unvaccinated friends and family to get vaccinated. Her answer was to try to be empathetic towards people and understand their hesitations; to essentially meet them where they are and explain your point of view. This approach has been personally successful for Corbett, particularly at "Hog Day," a Hillsborough festival that raises money for youth programs and services across the country.
Jose Andrés, who presented at the Tanger Center on Feb. 28, is an award-winning chef best known for his charitable work through World Central Kitchen. In the past, the nonprofit organization Andrés founded in 2010 has helped with natural disaster relief in countries such as Haiti, and most recently, it has helped donate millions of meals to Ukraine. The ongoing war in Ukraine was a common topic during the talk, as it has forced the organization to adapt, whether that means delivering meals via boat or feeding people during bombing raids. When talking about his concerns for the group after two were killed in a bombing raid, he recalls one of the group's Ukranian volunteers saying, "We will be doing with or without World Center Kitchen, because we are here to make sure no member of our country goes hungry."
Throughout his talk, Andrés praised the volunteers who have helped World Central Kitchen, some of whom were in attendance at the event. Andrés himself had recently returned from Ukraine, where, according to wck.org, World Central Kitchen first started providing meals hours after Russia launched its invasion. He had been scheduled to speak in 2022, but postponed his Bryan series talk following Russia's invasion of Ukraine. Instead, he went to Ukraine with his charity to provide aid, which is still an ongoing effort.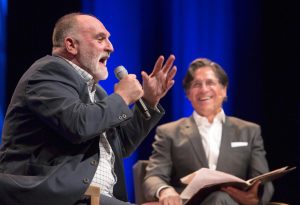 Andrés ended his Q&A by talking about how despite his awards and ventures, he remains proudest of his three daughters, who he says keep him down to earth. For example, one of his daughters once joked that instead of being invited to give a commencement speech at George Washington University, he had been invited to cook for the commencement. "It was the first time ever they invited me to be a commencement speaker." Andrés said, "And when they invite me, I share with my daughters, "Hey, I've been invited to give the commencement speech at George Washington." And my younger daughter, she tells me "Daddy, are you sure? Did they invite you to speak, or to cook for the graduates?""