Artemis astronaut Christina Koch has a knack for making history. In recent years, she was part of the first all-women spacewalk and set the record for the longest single spaceflight by woman after spending 328 days on the International Space Station. Now, Koch will become the first woman to fly to the Moon.
Astronomers Could Soon Get Warnings When SpaceX Satellites Threaten Their View
Last week, NASA revealed that Koch will be part of the four-person crew that will travel to the Moon for the Artemis 2 mission, the first crewed mission to the Moon in more than 50 years. The Artemis 2 mission will aim to confirm that NASA's Orion spacecraft operates as expected with a crew on board in deep space. During the roughly 10-day journey, the astronauts will not land on the Moon, but rather travel to the far side of the Moon more than 230,000 miles (370,150 kilometers) from Earth.
In a video on NASA's website, Koch said that when she first found out she had been assigned to Artemis 2, she was in disbelief. Then, she was filled with a sense of honor, responsibility, and readiness.
"I'm ready to try to make everyone proud and to really fulfill what this mission truly means to all humanity," Koch said.
Koch will act as a mission specialist, supporting Artemis 2 with her extensive experience in engineering and working in space. Canadian Space Agency astronaut Jeremy Hansen will work alongside Koch, and NASA astronaut Reid Wiseman will serve as Artemis 2's commander. NASA astronaut Victor Glover will be the mission pilot and become the first person of color to travel beyond Earth's orbit.
Gizmodo spoke to Koch back in 2020 after she set the record for the longest single spaceflight made by a woman. Given her recent appointment to Artemis 2, we thought it would be interesting to revisit our conversation, which was previously unpublished. At the time, Koch had been back on Earth for a little more than a month, but she was already yearning to go back to space one day while dreaming of becoming a part of the Artemis missions.
Her dream came true.
The Q&A has been edited for length and clarity.
Gizmodo: What was the weirdest thing for you when you got back from space? And has that changed now that you've been back for more than a month?
Koch: Definitely, yes. It is neat to be past the one-month milestone and it has changed so much. When I first got back, there were physical things that I had to get used to and also just cultural and societal things that were brand new after a year. So, the funniest thing was moving my own body weight around. When I first landed, I could sort of walk, but not really. I had to have a lot of support to walk. But even more difficult was changing positions when I was either sitting or lying down because my body, it didn't just feel heavy, it felt heavy in a lot of different ways. It felt like there were weights kind of hanging off different body parts where you might not expect like kettlebells hanging off my elbow or something like that. And so, every time I went to move, I made my overshoot and end up falling down the other way or having to have another go at standing up.
That was really funny to get used to and it was not what I was expecting. I thought I would just feel heavy, very evenly. Learning to walk was fun as well, because it just feels strange as a person in your forties that have to relearn how to actually walk and get around and sort of feeling all those muscles reactivate and relearn—that was funny.
And then of course, just seeing people again was really exceptional. When I actually first popped out of the capsule and looked around, I was completely stunned for a second because there were more people standing around me within ten feet that I had seen in the last 11 months put together. Just processing everyone's faces and and all the feedback that you get and chatting with new folks, all that was new to me at first, and it was really exciting, too. I was just so happy to see people. I was happy to see animals, like dogs, and even little kids, because things like that—you don't think about it, but you don't see that for a whole year straight and you realize how special all those different aspects of life are.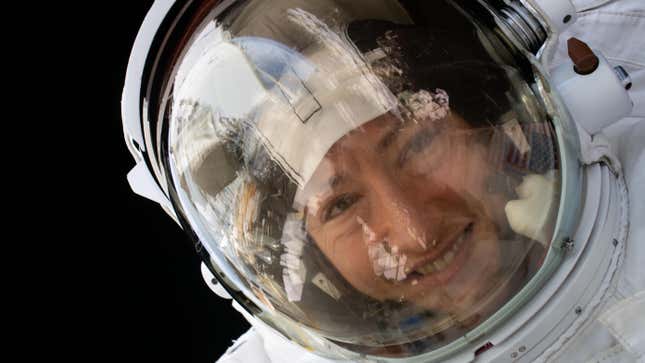 Gizmodo: I imagine you must have been involved in a lot of studies about how being in space affected you. Can you share a bit about them?
Koch: Yes. One of the neat things about being involved in the human spaceflight program right now is that some of the bigger original questions have kind of already been answered and addressed. One of the bigger things from the past was that muscle and bone atrophy that I mentioned, that being in microgravity would normally cause that, but we've developed such great exercise strategies and equipment that we don't see that as much. Now we're able to kind of hone in on some of the more nuanced aspects of how the body reacts to microgravity and some of the deficiencies that are there.
So, I mentioned neurovestibular, and I have some great and really fun science that I'm working on with that. Some of it is very physical in nature where sensors are actually put on some of my neurovestibular systems and some of the muscles that give evidence that those systems are working to measure whether it's having the same response that it did prior to my spaceflight. And then I'm doing some really neat other kind of, you can almost say cognitive type tests, where we see how my ability to orient in space changed from living in a 3D environment for so long.
It's really fascinating stuff and it's really allowing us to use that microgravity environment to understand the fundamentals of how our body works. If we never can remove that variable of gravity, then we can never see how that plays into different things that we do in terms of, like I mentioned, orienting and keeping our own balance and even wayfinding and understanding our place in the space around us. Some other nuanced things that I think are really neat are things like the small stabilization muscles around our spine. I'm in one called vertebral strength that is using some MRI techniques to see how really small but really important muscle groups are affected. Some of those muscle groups that might be a little harder to get at with some of our standard exercises. It's fun to see how we're learning more about the human body by being able to have the ISS as a research lab that can remove gravity from the equation.
Gizmodo: Why did you decide to be a research subject volunteer while you were in space?
Koch: Well, that's an opportunity that all astronauts are offered. I sort of just saw it as a big responsibility and part of my job. If I had opted out of some of those, I feel like we wouldn't have been able to get the full benefit of the microgravity laboratory that the space station is. We do science in so many different realms. It isn't just human research, but that is a huge part of it. And in particular, the human research part of it also informs our future spaceflight plans and allows our space flight planners to design missions to go even deeper, such as going back to the Moon this decade, and then after that, taking those lessons learned and going on to explore Mars hopefully one day.
It's a way that we can contribute to the success of the future space explorers and also bring benefits back to Earth for things like pharmaceuticals and fundamental research on the human body. For me, it was a no brainer, and I think most astronauts that go on board are thrilled to be able to be a part of that awesome research.
Gizmodo: You've made history as a woman. What do you think about that? And what is the next milestone that you would like women to reach in space?
Koch: I'm still just completely, profoundly struck by how grateful I am that pioneers that came before me, my heroes, paved the way for me to do what I was able to do. I feel privileged to be a part of the space program in this time when I can contribute. It's a time when we've decided that we're going to go for all and by all, and that inviting everyone to the table and not turning away a single innovative idea is how we're going to be most successful at that. I also feel very honored that hopefully what I've done can inspire the next generation, and I look forward to even mentoring the next generation.
In terms of the future, I can't wait to see the first female put footprints on the Moon. That's going to happen this decade with the Artemis mission. And I think that milestone is just going to be a really important symbolic one to inspire people of all shapes, sizes, genders, and races that, if you put your mind to it, you can accomplish things that are hard. I look forward to a world where everyone has to work equally as hard to achieve their dreams, and I see that world coming closer and closer to being. I'm just really privileged to have been just a small steppingstone on that road.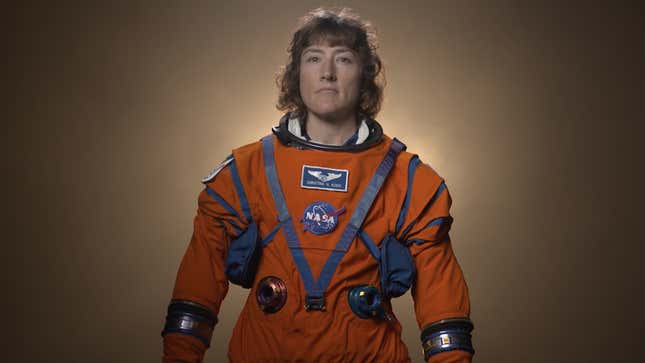 Gizmodo: Would you go back?
Koch: Well, I would absolutely love to get another flight assignment one day, and I hope to do that. It's great to be able to give back and finally put all the years of training to use. Basically, I have always really been passionate about the direction that NASA has taken in the years since I've been here. So, any mission that is out there is one that I can see myself doing and would just be completely honored to contribute to. Right now, that's looking like those could be returning to the Space Station. It could be on a commercially-built spacecraft, such as one from Boeing or SpaceX, and hopefully one of those will be launching from Florida soon in the next year. That's an exciting time. And then also the Artemis mission launching on NASA's very own Orion spacecraft, also from American soil and going back to the Moon.
Those are obviously just incredibly exciting missions, and I think anyone in the astronaut corps would be thrilled to be a part of them.
Gizmodo: What do you what do you think about when you look up at the stars now?
Koch: I have been inspired by the stars and by [those] things that made me feel small for my whole life. In fact, I credit that for one of the things that inspired me to even want to be an astronaut. When I look up at the stars, I like to ponder our place in the universe. What does it mean that we ended up on this planet together, how big everything is around us, how the Earth formed, what it means from a spiritual standpoint and a philosophical standpoint that we are here. Now, I think the added bonus is that sometimes I think, "I wonder if my friends are up there floating across the sky."
Want to know more about humanity's next giant leap in space? Check out our full coverage of NASA's Artemis Moon program, the new Space Launch System (SLS) rocket and Orion spacecraft, the recently concluded Artemis 1 mission around the Moon, the four-person Artemis 2 crew, NASA and Axiom's Artemis Moon suit, and the upcoming lunar Gateway space station. And for more spaceflight in your life, follow us on Twitter and bookmark Gizmodo's dedicated Spaceflight page.